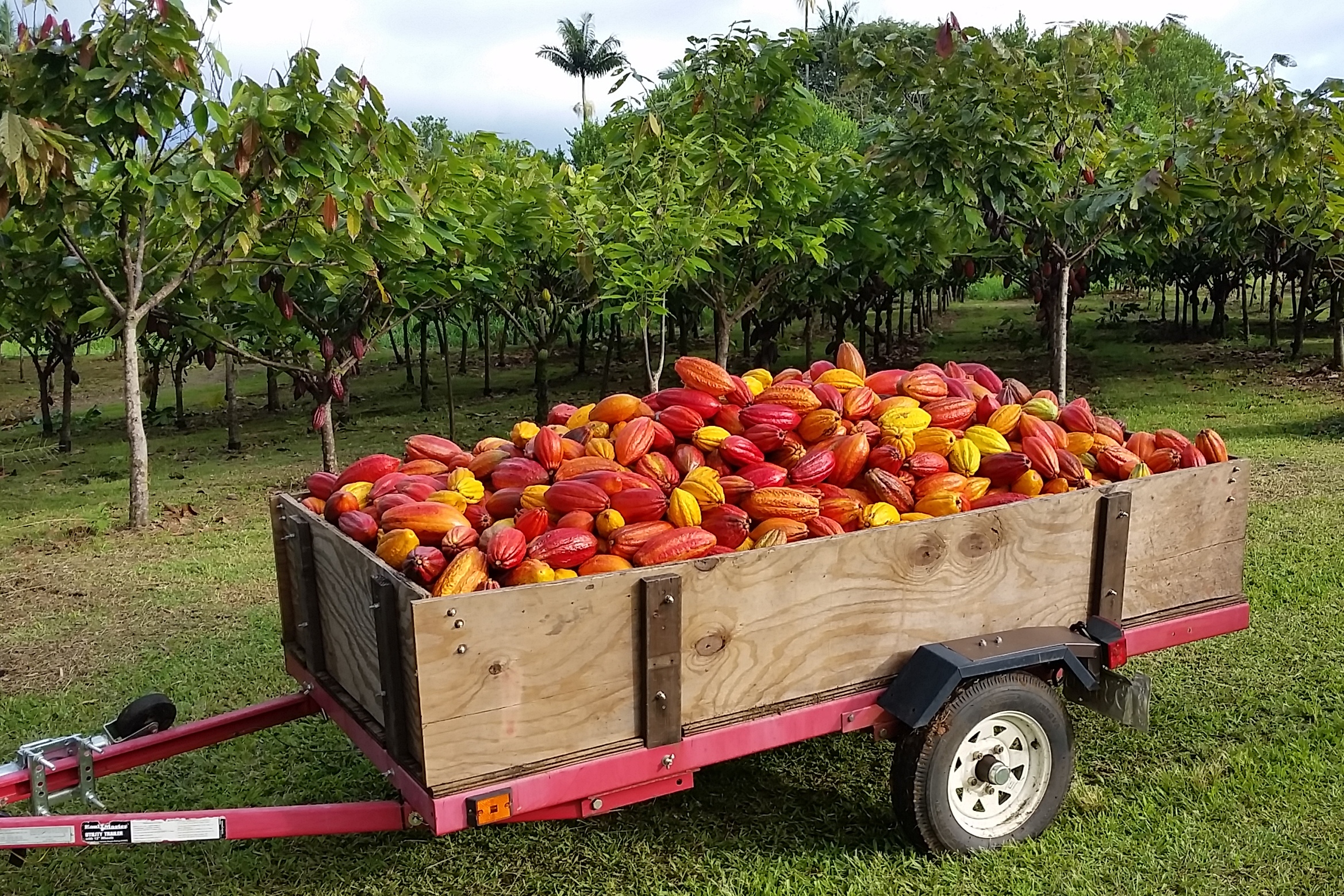 Resources
Bean-to-Bar Chocolate Makers
The following craft chocolate makers source cacao beans from Mauna Kea Cacao. Several make single-estate chocolate from our cacao. Chocolate from these bean-to-bar makers is also found at farmers markets and fine food retail shops in Hawaii and on the mainland.
Puna Chocolate in Hilo, Hawaii and Wauconda, Illinois, www.punachocolate.com.
Maverick Chocolate in Cincinnati, Ohio, www.maverickchocolate.com.
Madre Chocolate in Honolulu, Hawaii, www.madrechocolate.com.
Breweries
Be the first brewery to create Hawaiian-style chocolate beer from our award-winning cacao nibs.
Hawaiian Cacao and Chocolate Festivals & Conferences
Hilo Cacao and Chocolate Festival, Hilo Hawaiian Hotel, Hilo, Hawaii, April 14, 2018, www.easthawaiicacao.org
Big Island Chocolate Festival, Hapuna Prince Beach Hotel, Hawaii Island Kohala Coast, April 27-28, 2018, www.bigislandchocolatefestival.com
Annual Conference of the Hawaii Chocolate and Cacao Association, Oahu Island, March 10-11, 2018, www.hawaiichocolate.org
Chocolate-Making Equipment and Know-How
Chocolate Alchemy (www.chocolatealchemy.com) has been our go-to resource for making small-batch chocolate. Although we do not make chocolate for sale, we do so for quality control tasting to improve our ferments (and for the sheer joy of eating our own chocolate). This site provides step-by-step instructions on how to make small-batch chocolate and also provides equipment reviews and sales.
Organizations Supporting Hawaiian Cacao
East Hawaii Cacao Association, www.easthawaiicacao.org
Kona Cacao Association, www.konacacaoassociation.com
Hawaii Chocolate and Cacao Association, www.hawaiichocolate.org
University of Hawaii at Manoa, College of Tropical Agriculture and Human Resources. This link (www.hawaii.edu/news/2017/11/08/university-of-hawaii-cacao-among-worlds-best/#comment-703383) provides Hawaiian cacao information.